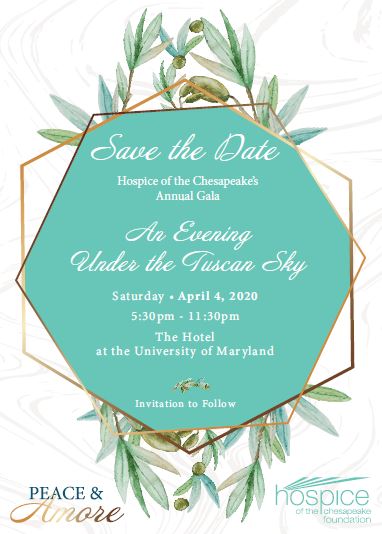 Hospice of the Chesapeake is pleased to announce that its annual gala will be held from 5:30 to 11:30 p.m. Saturday, April 4, 2020, at The Hotel at the University of Maryland in College Park. This year's theme, "An Evening Under the Tuscan Sky," will take guests to the Italian countryside filled with gardens, groves and vineyards.
The gala is the organization's signature black tie event and features an open bar, fine cuisine, a silent and live auction, a band and dancing. Its largest fundraiser of the year, the gala draws close to 500 attendees and directly supports the mission and programs of Hospice of the Chesapeake.
The nonprofit is celebrating its 40th year of serving the community and continues to celebrate its status as a leader in hospice and palliative care as well as grief support in Anne Arundel and Prince George's counties.
For sponsorship opportunities, contact Meg Lawton at 443-837-1531 or mlawton@hospicechesapeake.org.