Chesapeake Life Center offers grief support to anyone grieving the loss of a loved one in our community regardless of their relationship to hospice or the type of loss. We recognize that the experience of loss is different and unique for each person. To support the family of anyone experiencing hospice care, Hospice of the Chesapeake offers family resources to assist in coping.
"Let grief find the freedom to be expressed. Let grief find the right to be understood." — Kei Gilbert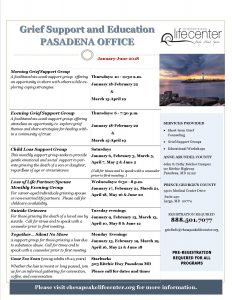 Click the link below to access our current program schedule:
Grief Counseling
Our professional team of licensed social workers and counselors specialize in grief, loss and transition for adults, children, teens, couples and families.
Reducing feelings of distress and isolation.
Managing anxiety and stress.
Developing coping strategies.
Increasing personal awareness and insight.
Hospice of the Chesapeake family members may receive short-term grief counseling (up to 10 sessions) and attend support groups at no charge for up to 13 months after the death of a loved one. Click here to hear from a family member who experienced the support provided by the Chesapeake Life Center.
We do not bill or participate in any insurance plans directly, but can provide you with an invoice to submit to your insurance or health savings plan. We offer a sliding fee scale for our professional services, grief support groups and workshops.
Chesapeake Life Center Brochure – Living With Loss
Initial Client Forms for Adults
Grief Bibliography
---
Grief Support Groups
Facilitated support groups allow individuals to explore grief while sharing the experiences of others in an environment of trust. Groups are structured to meet for six consecutive weeks or on a monthly drop-in basis. Registration is required for all groups. To register, please call 888-501-7077. For group dates and details, visit our event calendar.
---
Family-Centered Grief Support
The impact of grief and loss on a child affects all family members and many aspects of life. Our Family-Centered Grief Support Program focuses on the need to work with the family as a whole in processing loss to assure long-term wellness and stability. Our services help create a safety net of research-based interventions and services to address the paralyzing effect of grief on the family when the child is primarily the one who is grieving a loss not only due to illness, but also due to sudden or traumatic death, suicide or substance abuse. Click below to hear from a family member on the support she received after experiencing the traumatic loss of her father.
Our approach educates, empowers and involves parents and caregivers to help children work through a healthy bereavement process, while families discover the internal strength and capability to emerge from loss changed, but not broken. We utilize a holistic model of care realizing that grief and life changes uniquely affects each person physically, emotionally, mentally, spiritually and socially. To learn more about our grief support programs, visit our event calendar.
---
Bereavement Camps
Camp Nabi and Camp Phoenix Rising grief camps are for children ages 6 to 18 who have lost a loved one. During camp, our grief counselors, staff and trained volunteers give grieving children and teens the gift of hope and healing. They can share their stories in a safe, caring environment while enjoying swimming, canoeing and other outdoor activities.
Click here to view a video on Camp Phoenix Rising
When: Aug. 10-12, 2018
First and second graders attend a day camp on Saturday.
Third through 12th graders stay the entire weekend from Friday night to Sunday afternoon.
Grief Out Loud: Teens Talk About Loss from Hospice of the Chesapeake on Vimeo.
Location/Map
Arlington Echo Outdoor Education Center
975 Indian Landing Road
Millersville, Maryland
Get Started with an Application
Application deadline is July 13, 2018. Community support allows us to offer limited scholarships for families with demonstrated need. If you have questions, need additional information or would like to have an application mailed to you, please call 888-501-7077.
---
SoulCollage® and Grief: A Primer for Grievers
This two-hour online recorded workshop is presented by Chesapeake Life Center Bereavement Counselor, Roberta Rook, LCPC. The workshop will introduce you to the wonderful process of SoulCollage®, a form of meditative art that anyone can do to represent and express your memories, your feelings and what you are learning and how it is helpful to grieving.
To locate a hospice bereavement service provider in your area, contact the National Hospice and Palliative Care Organization.
---
Our Sister Hospice in Sub-Saharan Africa
In November 2003, Hospice of the Chesapeake began a partnership with Brits-Hartbeespoort Hospice, its sister hospice in Sub-Saharan Africa. Foundation for Hospices in Sub-Saharan Africa, Inc., increases public awareness of the AIDS pandemic in South Africa and sponsors people-to-people and program-to-program professional exchanges. In the region of Brits-Hartbeespoort Hospice, there are an estimated 4.3 million people needing AIDS home-based care and it is predicted that by the year 2020 there will be 20 million orphans. To help provide food for these families, Chesapeake Life Center and Hospice of the Chesapeake created the "Beads for Brits" fundraising project. Through the sale of handmade, beaded bracelets, World AIDS Day awareness events and other initiatives, we have provided monthly food parcels for the neediest patients and their families in Damonsville, a small village of approximately 1,000 homes with at least six people in houses that average 65-square-feet in size.
---
John & Cathy Belcher Institute for Thought Leadership – Turning Innovative Ideas into Strategic Solutions
"The Challenge John and Cathy Belcher gave us with their gift was to think about healthcare delivery differently. Thought leadership at the Belcher Institute includes every Hospice of the Chesapeake employee and the teaching they impart to caregivers as part of their work. It also includes our interns who are doing research on the latest trends in care, our physicians and the trends they see in the field, policy makers at all levels and, most importantly, our patients. We want to hear and learn from our patients and families in a great way. We want to be intentional and thoughtful in walking the journey together." — Laurie Harrison, director, The Belcher Institute for Thought Leadership
Courageous Conversations is a series of community-based conversations about end-of-life decision making and caring for loved ones with chronic diseases.
---
Contact Us
Chesapeake Life Center serves the bereavement needs of Anne Arundel and Prince George's counties.
General information for clients and families:
Main number: 410-987-2129
Email: griefinfo@chesapeakelifecenter.org
Toll free: 888-501-7077
---
Chesapeake Life Center is not a crisis center. Our phone is not staffed 24-hours a day. If you feel you need immediate intervention or are at risk of self-harm please call:
410-768-5522 — Anne Arundel County Crisis Response
301-429-2185 — Prince George's County Crisis Response
301-864-7130 — Prince George's County Suicide Hotline