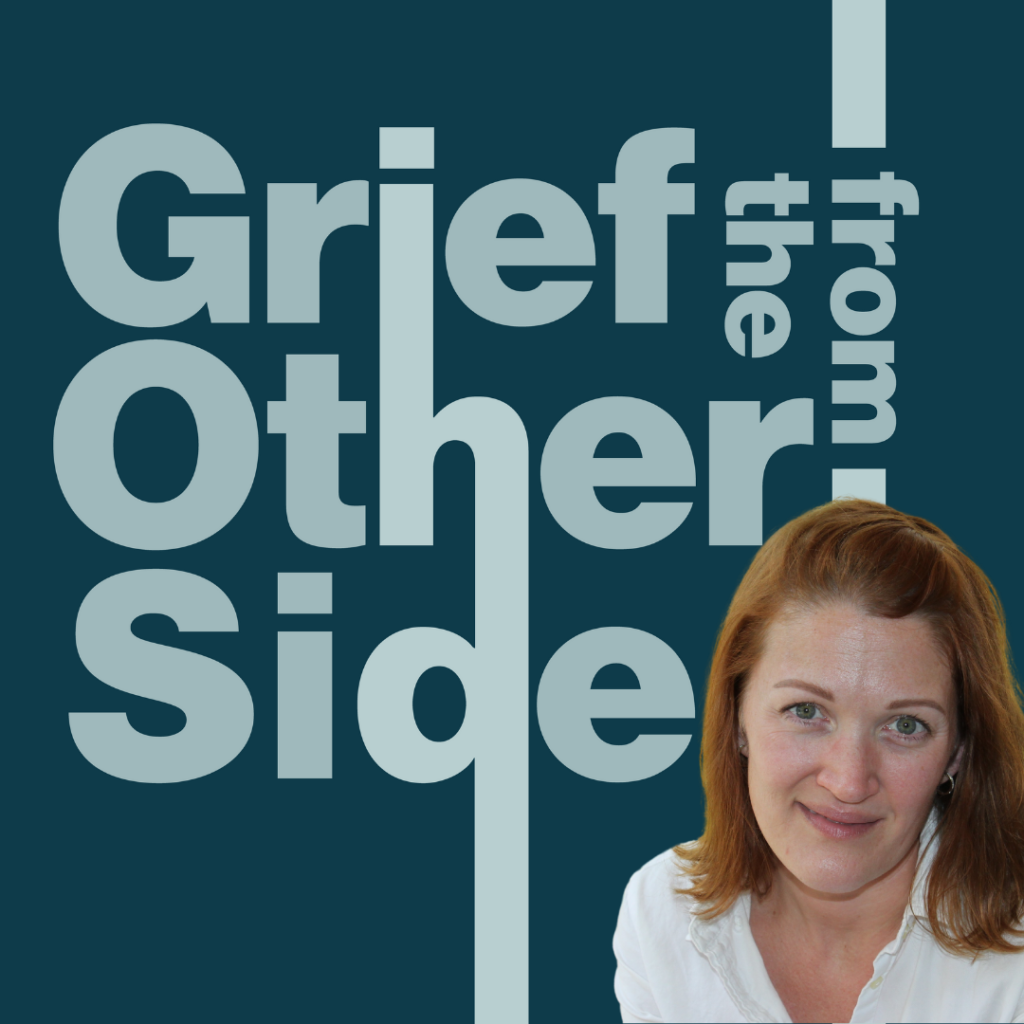 As a hospice nurse and now a clinical manager, Monica understands first-hand the importance of finding space to create joy at the end of life. In this episode of our Grief from the Other Side podcast, she shares her own journey with her most profound loss, describes her definition of a "good death", shares about the challenges with COVID-19, and explains how hospice is more than just caring for a person who is dying.
Speaker 1:
Grief From the Other Side, where the bereavement experts at Chesapeake Life Center talk about living with loss, sharing stories of hope and resilience.
Amy Stapleton:
Hi, I'm Amy Stapleton, Manager of Bereavement Services here at Hospice of the Chesapeake and the Chesapeake Life Center. And I'm here today with my colleague and friend, Tammy Turner. Hey, Tammy.
Tammy Turner:
Hey, Amy. I am Tammy Turner. I do community education and outreach for Hospice of the Chesapeake, and today we are going to be listening to the interview you did with Monica Hastings. Monica's position is in clinical management. So, tell me a little bit about your interview with her.
Amy Stapleton:
What I got from really sitting with Monica, Tammy, is her deep passion for this work. She really cares about every part of the process, from the patients, to the families, to her team, to why we do what we do. Monica doesn't sit behind a desk and just wait for things to happen. If there's a need, she's going to be right there alongside of her team doing the work, supporting our patients and families when there is a need. She comes to this work from having served in a lot of different areas of nursing, and I think that richness and that deep commitment, that rich experience and that deep commitment she has really comes through. Her passion is inspiring, and I can only imagine what a gift it is to our patients and families to have her as part of their team.
Tammy Turner:
Yeah. And to model that for other nurses too. I think she just does such a great job from a leadership perspective, just showing what it is to be a hospice nurse. So, let's take a listen.
Amy Stapleton:
I am so excited to be here today with Monica Hastings. Monica, tell us a little bit about yourself, how long you've been with Hospice of the Chesapeake, and what you do?
Monica Hastings:
Oh, sure. So, I've been with Hospice of the Chesapeake for four years, I think. Sometimes it feels like a really long time, and other times it feels like I've only been here a little bit. So, four years, and right now, I'm the Clinical Manager for West Two. And I'm also pitch hitting for West One and our facilities teams.
Amy Stapleton:
That's a lot of ground. So, when you say West One, West Two, for people out there, that's a coverage area, right?
Monica Hastings:
Yeah. It's all of Prince George's County.
Amy Stapleton:
All of Prince George's County. Okay. Just to be clear.
Monica Hastings:
From Laurel to Brandywine, and every space in between.
Amy Stapleton:
And you come to this experience as a clinician, as a nurse.
Monica Hastings:
That's right. Yes.
Amy Stapleton:
So, you're bringing that experience to the team. And I happen to know you're also seeing patients right now, which is an incredible gift, I think, not only to the patients, but especially to your teammates to know, "Hey, you're in there with us. We need help, or we need an extra set of hands." You know what it's like to be them, and I think that's-
Monica Hastings:
That's right, yeah.
Amy Stapleton:
That's an incredible way to lead.
Monica Hastings:
Oh, thank you so much for saying that. Well, it's my first love really, is being at the bedside. So, I was a reluctant leader in that leaving the bedside, but being back there is great. And yeah, being able to connect with what the nurses and social workers, chaplains and aides are doing every day really helps me stay focused and stay grounded with them.
Amy Stapleton:
Awesome. So, let's just get started here.
Monica Hastings:
Okay.
Amy Stapleton:
What brought you to hospice? Did you have experience working in a hospice before, or what got you to Hospice of the Chesapeake?
Monica Hastings:
Sure. Yeah. So, well, personally, let's start there. My grandfather died when I was 11 years old. And I remember being in the hospital, a really great hospital. They took beautiful care of him, and him saying, "I want to go home. I want to go home." And now, of course, I know that that's that figurative speech. But at the time I thought, "Well, yeah, I mean, why don't we just bring you home?" So, that was my first inkling that what they were doing for him could very well be done at home. We could keep him comfortable there. So, that lived in the back of my brain, and I went on and lived my life and became a nurse, and worked in the intensive care unit for a while and thought, "There's got to be a better way."
Monica Hastings:
And a dear friend of mine, whose husband was going through his hospice journey, she just needed some help navigating, from a nursing perspective. And her daughter happened to be a social worker, who worked with a hospice up in Baltimore, and she said, "You'd be pretty good at this." So, she connected me with a little hospice called Joseph Richey up there, and the rest is history.
Amy Stapleton:
Wow.
Monica Hastings:
Yeah. I really enjoyed doing inpatient hospice, but I wanted to change to home hospice, and be a little closer to where I live in Annapolis. So, Hospice of the Chesapeake was perfect for that.
Amy Stapleton:
I love that, that it's that early experience that really stuck with you.
Monica Hastings:
Yeah.
Amy Stapleton:
And no doubt shaped who you are personally and professionally.
Speaker 1:
What is lost?
Amy Stapleton:
So, when you think about, maybe it's that loss, or maybe it's some other loss in your life, what would you say, or do you remember what you were told when they died, or as you were noticing your grandfather even being sick?
Monica Hastings:
Yeah. That's great, because he really did, he suffered for a long time with Alzheimer's, but then there were, there was a series of unfortunate events, a traumatic fall, and an amputation. So, it was a lot of preemptive loss and grief because he didn't really remember us, and then this very sharp decline, and everything just felt like a free fall. I was profoundly sad, and because everybody else in my family was profoundly sad, we didn't talk about it, and we didn't discuss it. And then when my grandmother died a couple of years later, my loss was so intense.
Monica Hastings:
I mean, I get emotional when I think about it even now. And then I became quite ill right afterwards, and was diagnosed with an autoimmune disease shortly after my grandmother died. So, it was a really interesting, I had to go so inward and inward with it, that I feel like I really dealt with a lot of the grief, but maybe not in the most complete, and efficient, and effective way. So, it stays with me, but it gives me a different space to tap into, particularly when patients and family members are in that denial. Don't talk about it. Don't say it. We don't want to hear, we don't want to think those thoughts right now. So, it's given me a little bit of access, so maybe a blessing and a curse.
Amy Stapleton:
Yeah, no, I hear that. I think that's, you bring a lot of wisdom to that conversation. And sounds like you can meet people where they are in their own grief process because you've been there.
Monica Hastings:
Yeah. I mean, every, just like every birth is unique, but there are some to tangibles that translate and transcend for every birth. Every death is about the same way, and I feel like grief can be similar. Everything is so unique. You bring your own story and your own life with it, but there are some things that transcend, and being able to tap into that, "Oh, yeah. Okay. I know what that ist. Yep. Okay." Or even if you can't exactly get there, you can say, "I recognize that. I can see myself in that space."
Amy Stapleton:
Yeah. So, when you think about the losses that you've experienced personally, how would you say those shape your hospice experience, or what you do every day with clients, or families, or just with staff?
Monica Hastings:
Oh, yeah. With staff, for sure. I think that everybody has grief, even if it's not around a person dying. I mean, everybody's experienced loss, and gosh, right now, I mean, where we are just globally and getting back to some of that loss, is people are afraid of the Delta variant and, oh, my gosh, are we going to shut down again? I think that just being available, being a presence that is not really judgemental, not really even invested, other than being really authentically there for the other person. And sometimes that means actually being quiet, which is probably the hardest thing for me. Because I want to say something and do something to try to make you feel normal, or better, or at least heard. And sometimes the best way to do that is actually just to be quiet and really hear.
Amy Stapleton:
There's a lot of power in holding space.
Monica Hastings:
Yeah, exactly.
Amy Stapleton:
Is there a loss that really stands out for you personally, or professionally?
Monica Hastings:
Oh, gosh. Okay. So, I will be honest with you. The loss of my dog was a profound loss for me. And I've actually met several people recently who have just lost a dog, and it's such a, it's so intimate. It's so shared. It's so, "Oh, God, I am so sorry." And I was an active hospice nurse and had been for several, several years, when my dog became ill. He was older. He lived a great life and developed a very fast-spreading, aggressive cancer, and died pretty quickly. And I just, I was gutted. And so, that was a very profound loss, and I think oftentimes we overlook that. So, for me, that was probably the most surprising, I think, the most surprising. I was not prepared for the overwhelming grief that I experienced after that. It's a really big deal.
Amy Stapleton:
So, this is a plug. We do have a workshop, a pet loss group for anybody that's interested in that. I think you're right. That's a loss that sometimes is disenfranchised.
Monica Hastings:
Absolutely.
Amy Stapleton:
And certainly doesn't get named.
Monica Hastings:
Yeah. Right. And you feel silly and embarrassed, but it's profound. I was not prepared for it. I could have used that workshop. Maybe I'll even come and attend now.
Speaker 1:
What remains.
Amy Stapleton:
When you think about working with families, patients at the end of life, what it surprises you?
Monica Hastings:
Well, I think, it doesn't surprise me anymore, but it did at first, and I think that's just the joy that can be in that otherwise sad and lonely and scary space. I love to tell people, "There are no rules here. We are eating what we want. We are drinking what we want. We are just going for comfort." And sometimes they get a little furrowed brow, and they're concerned about that like, "Oh, well, do you care about my health? Am I going to be okay? You're not rushing me to this." And other times there's a real lightning like, "Oh, did you hear what she said? She said I could eat or drink whatever I want." So, just finding that space to create joy.
Monica Hastings:
I'm not surprised by it anymore, but it's always a pleasant experience when it happens. It's like, "Oh, yay. We did something fun for you today."
Amy Stapleton:
Yeah. So, I love this term, a good death.
Monica Hastings:
Yeah.
Amy Stapleton:
And really believe that a good death is possible, for as much as we can impact that, hold space for that help, help clients and families create that. What do you think, and again, it looks different for every person, but what are some of the qualities that you find are important in a good death?
Monica Hastings:
Oh, that's a really good question. I love that expression too, a good death. Well, I think I can personally relate to it. My father-in-law was just with us and died late March, and we did whatever we could to be available to him, and to spend time with him, and to really be present with him, in whatever capacity he could manage that day. And we were all able to gather together, which was a deep desire of his. And to just be there with him and talk to him, even if he didn't talk back, and make sure that his symptoms were well managed. But he said he didn't want to take too much medication, and we really tried to honor that, and just create a safe, calm place for him that was just filled with love and joy, wherever we can make it. And I think that that was such a good death. He died with us right there, and we were sad, but not afraid.
Monica Hastings:
And I think if I can empower other people to do that, or I can make that situation for other people, by being the nurse that's present for them, or by helping the nurses and social workers, and chaplains and aides, and nurse practitioners and physicians that are there for them providing that, just that awareness, and that comfort for the family too, so that they are comfortable, then I think that's a really great death.
Amy Stapleton:
Me too. Let's talk about COVID.
Monica Hastings:
Let's do it.
Amy Stapleton:
Oh, man. Gosh, what has changed for you just on a day-to-day level, being a healthcare professional right now during these times?
Monica Hastings:
Yeah. It's been, gosh, it's been a lot, and just huge shout out to everybody, all the people out there who are navigating this. Because it's been a lot for healthcare workers, but it's been a lot for the teachers, and the families, and the, anybody, the grocery store employees. So, shout out to everybody who's living through this. For us, it's been mostly, what PPE do I need to wear, keeping track of all of that. We're always really cautious about infection control, and being cognizant of the fact that particularly on the home care side, we're walking into environments that there's a lot of unknown that we walk into, and we want to make sure that we're safe when we go to see somebody else.
Monica Hastings:
And yeah, so I'd say that's been the number one thing, is just being, having such a heightened awareness of that, and the PPE. And part of what we do best out there as hospice folks, is to provide a lot of comfort, and touch, and maybe a more gentle clinical work. We take our time. We have the luxury of time, in most instances. And with all the PPE and all that stuff, it's a little hard to feel that touch and that quality of comfort.
Monica Hastings:
And certainly, my gosh, anybody that's hard of hearing when you're wearing a mask and a face shield, just, it's a lot of work. And I think just the exhaustion for anybody who's out there doing that every day. By the time you get home, it's a really physical, it's a physical commitment to do this type of work anyway, and then adding on all those barriers, and cleaning everything down to such an extent that we are now is, it's a big ask. And so, yeah. Take care of yourselves. Be safe. Get vaccinated. Take care.
Amy Stapleton:
Did you ever, I mean, not that you could have imagined we would be here, but I mean, when you started nursing, could you imagine nursing would've transformed into this?
Monica Hastings:
No way. This was the type of stuff that you just thought they scared you to death with, just to be mean in nursing school. You never imagined that this would be the reality. And I think it's amazing how quickly the world responded, and just how effective the measures that we've put into place, the vaccine, the antibody work that they're giving now. I mean, it's really, it's impressive. Science is amazing.
Speaker 1:
What's next.
Amy Stapleton:
What would you want clients, patients, family members to know about hospice, or to know about what we provide for them?
Monica Hastings:
Well, I think the most important thing that you can tell people about hospice is that it is so much more than death. It is about quality of life and trying to set everybody up for that good death experience, whether it's in a couple of days, or a couple of years. Just knowing and having those conversations, knowing what to expect, knowing what it could look like or feel like, and knowing that somebody is there to advocate for your person, your loved one. I think there's a lot of beauty there. I think there's so much that we can do on the front end that helps folks like yourself on the latter side, to navigate the grief that is inevitable, and to really enjoy the life that their loved one has left. Really enjoy it, find joy. Make it, even. So, I think that's what hospice actually specialize is in, is allowing you to find and make some joy and in otherwise pretty scary and sad time.
Amy Stapleton:
I love that. I mean, I love that maybe we are shifting the narrative of hospice just a little bit, and being able to not just have hospice be understood about death and caring for people at the very end of their lives, but really enhancing and expanding the quality of their life, no matter how much time they have left.
Monica Hastings:
Yeah.
Amy Stapleton:
And so, find joy. That's a great hospice motto. Knowing that everybody's grief experience and journey is different, just like their hospice journey is different, what do you feel could really help or make a difference at the end of life? As you're talking and thinking about loss, you've had a lot of collective loss. I mean, you see people die a lot. What would you say to someone, perhaps maybe even coming into this field, to that nursing student, that's really trying to decide where to specialize? What would you say about loss and how to deal with the cumulative nature of loss?
Monica Hastings:
Oh, that's a really good one. I think the most important thing is to make sure that you stay soft to it. Don't become hardened. Stay a little soft and pliable. Let it flex you, and let it maybe wash over you, but not take you under. And then to speak a little less metaphorically. Own it. I mean, it's okay to be afraid and to be really burned out by all of the loss that you feel, and all of the loss that you see, and that's important. That's a signal inside of you saying, "Hey, maybe you need to just do something for yourself." Staying connected with whatever brings you joy and meaning, whatever helps you make sense of all of this. I mean, the universe, the world, your day-to-day experience, I think that's so important, whether that's a religious entity, or just even a spirituality and concept. Stay with that and find whatever comfort you can in that space.
Monica Hastings:
And then just know that this is all very natural. I mean, this is what we were literally born to do. And we're here for the time that we are, and some people have very sad endings. But where we can, we can turn those endings into something a little bit more pleasant and meaningful for the folks that are left, and for ourselves. This is hard work. We need to take care of ourselves and each other.
Amy Stapleton:
Monica, it's been my pleasure to spend time with you today, to listen to you, and always be inspired by you. Thank you so much for taking the time.
Monica Hastings:
Oh, man. Ditto. Thank you so much, Amy. It was a real pleasure.
Amy Stapleton:
Take good care.
Monica Hastings:
Thanks. You too.
Monica Hastings:
(silence)
Speaker 1:
Grief From the Other Side podcast is made possible thanks to the generous support from the John and Cathy Belcher Institute. For more information on grief and loss services, visit chesapeakelifecenter.org, or call (888) 501-7077.