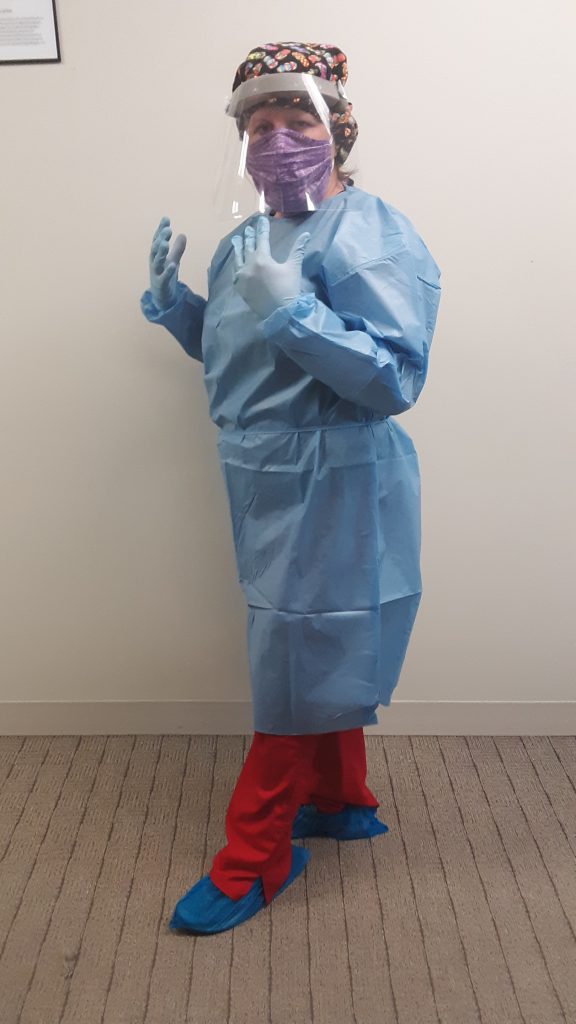 This week as we honor Nurses, we also wanted to share with you stories of resiliency and courage exhibited by our Hospice of the Chesapeake Team. We hope you will value the insight they provide and clearly understand by hearing directly from them why we consider them our hospice heroes as they care for those living with illness and loss. The care they provided does not stop even during a pandemic. This is what commitment looks like.
Today's hero . . . Meredith joined our Hospice of the Chesapeake Family in December 2018. Here is her COVID-19 story:
"COVID-19 — something I have never seen before and I hope we never have to live through something similar again. This has brought a new challenge to an almost 15-year nursing career. Since the start of this pandemic, my emotions have been all over the place. At the start of this, I volunteered to be the nurse on our team to go into the facilities where there were positive patients knowing eventually that we would all have these patients but at least to start I could do my part to offer my team members some peace of mind and sense of security. This brought along many sleepless nights as my husband and I would lay awake thinking about what I should wear (which ended up being two to three layer of clothes), logistics of my visits, and how to safely doff all my PPE (dirty compartments in my trunk for shoes and clothes) prior to going home to my family and a hot shower.
There is a look in their eye of loneliness and a feeling of desertion as their families cannot come to visit them.
This was only one part of what would keep me awake at night. Then there were my patients, many depressed because they do not know and cannot comprehend what is happening. They know something is different and although many cannot articulate it, there is a look in their eye of loneliness and a feeling of desertion as their families cannot come to visit them. And then there is the families and the complete sense of loss that one can hear in their voice every time they are called with an update. There is a sense of pleading in their voice for any information or insight into their loved one and how they are doing. With each one there is a sense of guilt they seem to share for not being there for their family. We do our best to alleviate their feelings, but it becomes clearer every day that I have become a part of these families and their lifeline to each other."
We are grateful to Meredith for sharing her story with us, for her courage in the face of the crisis, and for her commitment to her colleagues. #HospiceHeroes #Inthistogether #HealthcareHeroes
Thank you, Meredith!