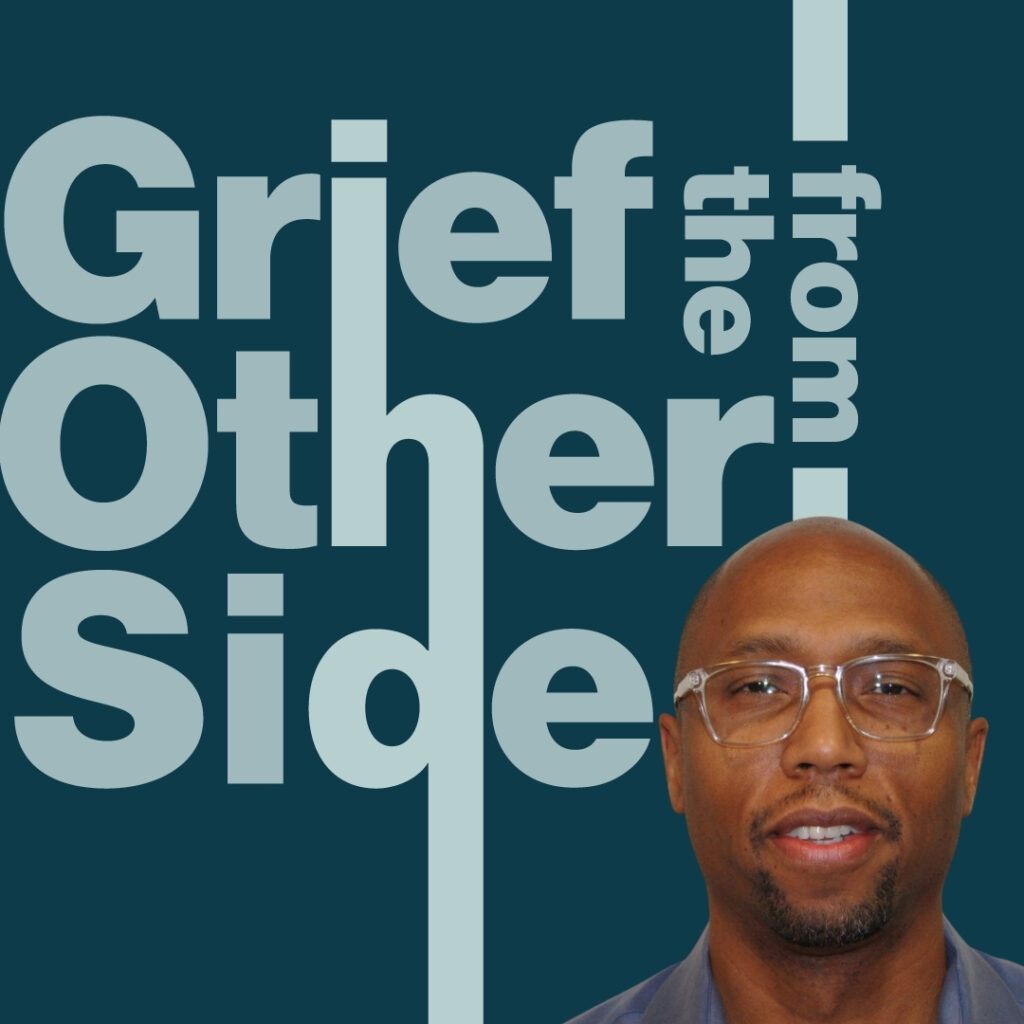 As a chaplain, Stewart is very comfortable being with individuals during challenging times. He credits his mother with how he grew up understanding death, loss, and grief. Stewart shares how his own personal struggles inspired his journey to become a hospice chaplain. He talks about the role of a chaplain, shares his definition of spirituality, and discusses the power of meeting people where they are.
Speaker 1:
Grief From the Other Side, where the bereavement experts at Chesapeake Life Center talk about living with loss, sharing stories of hope and resilience.
Amy Stapleton:
Hi, I'm Amy Stapleton, Manager of Bereavement Services at Hospice of the Chesapeake and the Chesapeake Life Center. I'm here today with my colleague, Tammy Turner.
Tammy Turner:
Hey, I'm Tammy Turner. I'm the Community Education Manager for Hospice of the Chesapeake. This season, we're listening to staff stories, and we're sharing those with you. We are talking and listening and hearing different roles and finding out about what people do within Hospice of the Chesapeake and Chesapeake Supportive Care. Today's discussion is going to be with Stewart. Stewart's a chaplain. So Amy, let's give a little intro for Stewart.
Amy Stapleton:
Oh wow, Tammy. Stewart is such a gift. Being in his very presence, I think you experience just his groundedness, his peace, and I have no doubt that he brings that to the patients and families that he works with in our hospice community. Stewart brings a very rich life experience to this work as chaplain, and listening to his story, I think you hear where that started.
Tammy Turner:
Right.
Amy Stapleton:
You see the influence of his family, particularly his mother and just the source of that strength and how he brings that to everything he does.
Tammy Turner:
Yeah. Yeah. I think Stewart just really embodies what the mission of Hospice of the Chesapeake is with caring throughout the journey of illness and loss. He listens, he takes time to understand and be with people. Not pushing, not pulling, but walking alongside. That just really resonated with me when we were listening to him.
Amy Stapleton:
Yeah. I loved it when he said so much of his work is invitational. It's, can we talk? Can I meet you where you are? Not pushing, not pulling, just being. I think listeners will really hear that invitation and see how Stewart embodies that in his work as a chaplain.
Tammy Turner:
Yeah. And get a better understanding of what a chaplain does. Yeah. Let's take a listen.
Amy Stapleton:
Hey Stewart. I am so excited to finally be sitting in a room with you so that we're not on Zoom together. I really just get to be in your presence because what I know of your presence is calming, is generous, is compassionate and kind. I'm just grateful to have this opportunity to talk with you today.
Stewart:
Well, thank you, Amy. I'm so glad to be here. I mean, when Tammy mentioned the possibility of doing a podcast, I thought, "Wow, this is like a dream come true, literally."
Amy Stapleton:
Wow.
Stewart:
Yeah. So I'm looking at everything and taking notes because one day I want to grow up and be like you.
Amy Stapleton:
Let's do this together. Let's start our conversation.
Stewart:
Okay.
Amy Stapleton:
Stewart, tell me a little bit about you, about what you do at Hospice of the Chesapeake and what a chaplain does.
Stewart:
Well, a little bit about me. I'm 56, no, 54 years old. Sorry. I'm aging myself even by the day. 54, and I've lived every minute of it. I came into chaplaincy late, but really was called to ministry and thought, "Okay, I'll be a minister." But as I went through the process, I found chaplaincy and learned that it was perfect for me. That's just a little bit about me. I mean, I've been in the Air Force, I've been a government employee, I've been a real estate investor, I've been just about everything. I've even been a transportation aide in a hospital. I transported patients. That was one of my first jobs, and I loved it. So I've been in the hospital, clinical sort of areas for a long time now.
Amy Stapleton:
Well, and I see everything you just described, I think that just makes you so much more equipped and prepared to be a chaplain because really when you're a chaplain, you have to have all sorts of tools. You have to have lots of ways to engage with people and how all those experiences you just described get you into the door, get you into that room.
Stewart:
Yeah. One of the people I used to talk to mentioned, "Why would I listen to someone that has no experience?" It makes the experience, the process, more rich for me and the individual that I'm dealing with, that I'm sitting next to. I can speak to just about anything, but I can listen to everything because I can gather a lot out of what may not be said just to be able to connect with where they're possibly going and try to go there with them. I always, every day, I just let people know, "I'm here to walk with you along your journey." To me, that's what a chaplain is anyway. That's what a chaplain is to do. Much like Jesus did along that road to Emmaus, he's walking with the disciples, and they didn't even know it was Jesus because he was so casual about it. That's what I feel chaplaincy is.
Stewart:
But there's also a little definition that I have here that maybe I could read to you.
Amy Stapleton:
Sure. Love to hear it.
Stewart:
A little more defined what a chaplain does. Chaplains are spiritual care providers who seek to build a relationship of trust through compassionate presence, empathic listening, and spiritual affirmation to support the individual's emotional and spiritual well-being. That's-
Amy Stapleton:
That sums it up.
Stewart:
That's a mouthful.
Amy Stapleton:
Just to be clear so we can dispel any myths out there about chaplains, chaplains will meet with anybody. You don't have to be a member of a faith tradition, you don't have to have attended any services or hold any religious practice at all really to request a chaplain, to have a chaplain come and support you through this time in your life. Chaplains are people of all faiths, and sometimes they meet with people who have no particular faith tradition, right?
Stewart:
Those are some of the best meetings and visits with people who aren't in a box. In a sense, in my experience, religion is a box that people literally put themselves in. But when you step outside of that box and you realize that spirituality is the connectivity of all of us to everything, all of us to each other and all of us to the world and nature, then life becomes richer without the box.
Amy Stapleton:
I think about just the profound nature of you're meeting people at some of the hardest, worst times in their life, and all that comes with them shows up in those moments. For good, for bad, for every part of themselves shows up. To be able to sit with them and say, "You know what? I can just be with you for who you are, where you are in this moment," there is no greater gift than that.
Stewart:
Along with what you just mentioned, that chaplains can meet with anybody, and I always like to tell people, "I'm not here to push or to pull. I'm here to walk with you. The process is organic. I don't have a plan. I go where you want to go, and we can stay where you want to stay. We can move to another place and we can go there."
Amy Stapleton:
So no right, wrong, no judgment.
Stewart:
Exactly. I'm not afraid to go wherever you want to go. Now that can make a lot of people uncomfortable. But if a chaplain is uncomfortable, then maybe they shouldn't be a chaplain. I remember a young lady told me one time, "You look like you will try anything once." And I said, "Well, I don't know what that says," but I'm thinking, "Not anything. Just about anything." But it has to be a part of the DNA of the chaplain to go anywhere, to meet people where they are, and then just to walk with them no matter where that walk takes you.
Amy Stapleton:
So in my faith tradition, we call that bearing witness. You are bearing witness to people, again, at some of the hardest, most vulnerable times in their life, and what a profound gift that is to just be there.
Stewart:
It's a gift to me. Definitely.
Speaker 1:
What is lost?
Amy Stapleton:
So true confession, we've already talked about this a little bit. I used to be a chaplain. Honestly, one of the reasons that I transitioned from being a chaplain to being a bereavement counselor was it got really hard to not see people through that journey. So mad props to you for holding that space for people when they need it the most.
Amy Stapleton:
Can you talk a little bit about what inspired you to be a chaplain? You talked about being called. What was it either in your history or just that one day you woke up and you're like, "This is what I feel called to do." What was that like? Or when did that start for you?
Stewart:
It was sort of a constant. My mother was an LPN, and she did private duty, but she also worked in nursing homes at different various times. My mom had a unique perspective on death. Her father died when she was three. Her mother decided she would never bring a man into the home with five girls and one boy. But five girls. Never bring another man into that home. And she didn't. But she raised those six children. I guess that really shaped what my mother became. My mother wanted to be a mortician.
Amy Stapleton:
Oh wow.
Stewart:
She was in school in Pittsburgh, but in the … What was it … '40s maybe? At that time for a Black female … Her aspiration was to have her own funeral home. It was unlikely.
Amy Stapleton:
Nearly impossible, I imagine.
Stewart:
Nearly impossible. But her dream continued as an LPN to at least be able to work with people through really the most difficult times in their lives. My mother would relate to older people. She would say golden-agers. So thinking of the golden-agers and how my mom used to look at it and my mother would talk about death. She would read the obituaries every single day. She would say, "I knew so-and-so," or, "This person I remember from here or there."
Amy Stapleton:
It's like her own way of bearing witness.
Stewart:
Always. It was a daily thing with my mom. She read the obituary every single day. I don't think there was a day that went by.
Amy Stapleton:
It sounds like she wasn't afraid to talk about death.
Stewart:
That was the key for me because as she made herself vulnerable, and that was one of the key traits of my mother. She was vulnerable. My mother never met a stranger. I'll say that. Never met a stranger. Anybody. She could talk to anybody about anything at any time, anywhere. It became so natural for me to see it that it's a lot of who I am.
Stewart:
Of course, dealing with death because my mother would say to my dad, "Jim, if I die before you, I'm going to make sure you have a good wife because you're going to need it." She knew that. Not in a boastful way, but, "You need a good wife, and I'm going to make sure you have one." Not knowing that she actually would find that person for my dad. After my mom's cancer came back after 17 years, she died and she invited the woman over for dinner that would be my father's future wife.
Amy Stapleton:
Wow. What an act of love.
Stewart:
That was my mother. That was what I am so used to. I was a mother's boy, mama's boy. I was always on my mom's side if there was any sort of argument or discussion. She would say, "Stew, who do you think is right?"
Stewart:
"You, mom." Always. My mother shaped and formed all of those ideas and concepts and personality wise, just being the kind of forgiving person that, if she were angry, 10 minutes later, she could just change everything. It would be wiped away. Forgiveness, unconditional, all those things.
Amy Stapleton:
All those things that you clearly bring to your work as a chaplain.
Stewart:
It's part of why … You mentioned the difficulty of being with people in this space and then not being able to move on with them through … It's a little bit of how I can, I wouldn't say disconnect, but how I can allow things to move on without me. Knowing that I do have a part, but it may be a small part in someone's life, and I'm not confined by that. I don't feel bad about it because my part is an important role. It's a very important role.
Amy Stapleton:
I think of so many times when I was a chaplain, I would get asked to come in and be with people who had no family, who were really by themselves or hard conversations that people didn't feel like they could have with their family. So you're the container of all of that. Just curious how you hold that. How do you take care of yourself from holding so much of other people's grief?
Stewart:
That's a good question because it's something that I think I've been doing since my mother would talk about her dad and the grief that she was processing. He died at three years of age. She never really got to know him, but all of the pictures that she would share, and we would talk about his love for hats. He would wear hats. He was a very good-looking gentleman. She would just talk about him as if he were here today. It was like I knew him, even though she had never had an opportunity to really know him. She was three years old. It was, I wouldn't call it necessarily like some may say, venerating the ancestors. It was a memorial. It was a constant memorial with my mom. We were in memoriam.
Amy Stapleton:
In grief work, we call it borrowed memories. I mean, what I hear is that you borrowed those memories and that created this legacy. This legacy that lived on in your mother, this legacy that you inherit, that you no, again, that you no doubt bring to the people you sit with. What an incredible gift. Oh, I wish I could have met her. We would have had some good talks. No doubt.
Stewart:
Yes, indeed. It's one of those situations where when my mother would come in the door, the party would start basically. She was the life of the party. My dad wasn't at all because you have that-
Amy Stapleton:
It's a balance.
Stewart:
You have that balance. But my dad was the steady rock. My mom, you would almost say, was the flighty butterfly, but everybody loved it. So it never held her back. She didn't feel contained by that.
Amy Stapleton:
Sounds like she could just be with people as she was, as they were.
Stewart:
Yeah.
Amy Stapleton:
Again, what an incredible modeling for what it takes to be a chaplain,
Stewart:
Not even knowing that her son would be a chaplain and she … Let's see … She didn't get to experience my chaplaincy training. I had not even begun school for the master's in religion. So she missed all of this. But when I speak to people, I talk about making memories. Every time an individual wakes up in the morning, we have another opportunity to make memories. I just remember holding my mom's hand, holding my dad's hand before they passed, and they both have passed, and just making memories. I mean, we had so many before, but every day we would make more memories. Some people mention, they'll say to me, "It's so difficult because I'm here. It's like I'm waiting for them to die. I'm watching them and waiting for them to die." I say, "No. Every moment, you're making memories."
Stewart:
It's one of those half glasses that are half full or half empty. If you choose to see it as half full and that you're making memories rather than losing memories, it creates a different narrative for the story and that can be told from another angle that allows you to, for my point of view, process it and take ownership of it because it's hard to hold onto something you've lost. But it's much easier to hold onto something that you remember.
Amy Stapleton:
Yeah, that you gained.
Stewart:
That you gained, that you know. Not only going back over all the things that you already know, but taking every moment, remembering what they've done and how they did it. Like for my mom and everything that I just mentioned about my mother, it's almost a celebration whenever I talk about her. It's never a sad time or sad thing.
Stewart:
And matter of fact, when I saw my mom and she had passed, she was at my sister's house and they called at four in the morning. I went over and I looked at her and I'm just thinking, "She's not dead. She's sleeping." I had to go over and put my ear next to her mouth. Then I looked at her again and I thought, "Okay, maybe she is dead, but she doesn't look like she's dead," and that's a good thing. Whenever I see a peaceful, calm, comfortable exchange from life to death, I see my mother and I see the beauty of all of it because if your passing is peaceful, clearly it's a good thing. But even if things are not so easy, we still have that hope.
Speaker 1:
What remains?
Amy Stapleton:
What, in some of your moments with patients, what do you talk about? How do you support them in that moment when they're kind of reviewing everything of their life? Where do you go with that?
Stewart:
Well, the narratives that people have are what connects them to everything. It's a spiritual connection. I mean, that's the way I see it. So as long as I can engage them, and that's what I try to do is just engage them with their narrative and try to keep it going to the point where their loved one is breaths from passing, but they're able to laugh with me. Not that I'm taking away from the fact that their loved one is passing, but it adds, I believe, to the fact that their loved one is passing and they're able to laugh. I ask many times people, "What do you love? What is it that you love or loved to do or engage in that you haven't been able to lately?"
Stewart:
I just encourage them to seek those things and resort to those things, whatever it might've been. For some it's art, and maybe they hadn't had a chance or an opportunity. I, of course let them know, "I know it's difficult to find time to take care of yourself in these moments. But for you to be there for your loved one, it's extremely important to take care of yourself."
Amy Stapleton:
So you're, as a chaplain, you're supporting not just the patient, the person dying, you're supporting the whole family, however that family is defined. People coming in and out and just really anyone part of that person's circle.
Stewart:
That's how it usually works for me. I definitely enjoy patients and being able to relate with them, but inevitably I just gravitate to the whole family too. I think it's just intuitive for me. I don't try to do that, but it happens.
Amy Stapleton:
Sounds like you bring people in.
Stewart:
Right. Like I said, I don't necessarily do that on purpose, but I guess it's just a part of that family sense that I have from my own family.
Amy Stapleton:
You mentioned this earlier, Stewart, as part of your own sharing, but I wonder what are some of your own kind of faith or spiritual principles that kind of ground you in this work? Are they ever tested or kind of tried or stretched?
Stewart:
Well, it's funny because in my spiritual walk, I've been in some of the lowest places that I ever thought I could go. Just that tunnel of darkness with no light at the end of it. I've been there.
Stewart:
I've had moments where I thought everything would be taken away from me. This was separate from the tunnel. A different time altogether where everything was going to be lost basically. I remember just asking God, "Okay, God. Is this your plan? Is this really what your plan is?" I just remember the voice. You might say it was God, maybe it was an angel, maybe it was, I don't know, but the voice clearly said, "It's not about you."
Stewart:
And I said, "Okay." That freed me to be in a sense carefree, but-
Amy Stapleton:
And who you are.
Stewart:
Right. But in another sense to realize that everything I'm going through is not for me. It's for someone else. So my life at that point, it flipped. I was no longer concerned about myself. I became just this outward sort of extrovert, knowing that anybody I come in contact with is just another person that God wants to know something. It may be something small, it may be something big, but if I could share whatever it might be, and there are times when I'm, I almost want to say tempted, but there are times when I feel just compelled to tell an individual something about my life or about my walk or my experience. It always turns out that they say, "That's exactly what I needed to hear, and that's what I've been wondering," maybe. It always happens. I don't plan it. It's not a chaplain's practice to talk about their self. Not very much. Other than, "Yes. I've experienced things," whatever the case.
Amy Stapleton:
But when that moment presents itself-
Stewart:
When it happens-
Amy Stapleton:
You can't help but step into that because that's what makes us human, right?
Stewart:
Mm-hmm (affirmative)
Speaker 1:
What's next?
Amy Stapleton:
If I had to think of one word as a chaplain that just kind of continuously sticks with me about the work of a chaplain, it's grace. I think about how often just that you extend grace to people. Not even from yourself, but just how much people often hold at the end of their life, and they just need a word. They just need a word of grace, of acceptance, of love. Is there a moment with either a patient or a family that stands out to you that really has, I don't know, just left a mark on your work as a chaplain?
Stewart:
Oh, there are so many. So many, but I can think of one. A gentleman asked me … He was looking in the Bible and he said, "I keep wanting to read the Bible, but I can't really do it. I fall asleep or something. I just haven't been able to read the Bible much." He said, "But I'm wondering, and I'm really searching here because I want to know what I need to do." I told him, I said, "You don't need to do anything. God already knows your heart. There's nothing you could do to change what God already knows and what God already feels for you. The love that God has for you in extending grace to you, it's already done. The rest of your life just needs to be that you recognize that. Realize that God has already done everything. There's nothing you need to go out of your way to do to be saved."
Amy Stapleton:
What a moment of comfort, I'm guessing. I mean, personally, I think there's no greater honor or privilege than to be with people in the most intimate moment of their lives this way. To just listen, to just embody goodness and grace and love. You do that so well, Stewart. I can tell. I'm so grateful that you are a part of our team here at Hospice of the Chesapeake.
Amy Stapleton:
I wonder, just as we wrap up, if you could say anything to people who maybe are a little hesitant about chaplains. They don't want to come in and have somebody pray off on them, or maybe they've had a bad experience. What do you say to folks who are a little suspicious of chaplains out there?
Stewart:
I basically would just say, I would say, "Give me a chance. Just let's just sit down and talk without any judgment." It's hard to tell someone, "I'm not going to judge you." I mean, I could say that all day, but that doesn't mean a lot.
Amy Stapleton:
You've got to show me.
Stewart:
Right. So if that individual would just give us a few minutes, even on the phone, a few minutes, to talk, hopefully they would see that my job is not to push or pull, which most people think that's my job. Some people will say, "You need to come visit my dad because he needs XYZ."
Stewart:
"I'm not here to give XYZ, but I will surely come visit your dad." So there is no magic formula, but if someone would even just take the time, even if it's just five minutes. That's basically all I can say is just, "Can we talk for five minutes?"
Amy Stapleton:
What a beautiful invitation. "Can we talk?" One follow-up question I had. Chaplaincy in the pandemic completely different. Totally changed that ability to be present physically often, touch people. What's that been like for you?
Stewart:
It's been terrible for me. There are so many people that I haven't been able to visit since we were shut down, you could say, in the beginning months of last year. This last year has been very, very difficult. I think you did ask a little while ago, what I do basically to take care of myself, self-care. I've found I have to have more time away. Sometimes I've gone camping by myself for a night, not for very long, but just go out into the woods and just sleep in the tent by myself, listening to whatever's out there and thinking, "Okay, there is something out there."
Amy Stapleton:
One of my favorite places is the desert. And I intentionally go there. I haven't gone obviously in more than a year, but there is something to be said for those of us who hold deep grief and do this deep work that we need deep spaces. Wide open, big spaces to hold this.
Stewart:
With some quiet. Peace. Solitude. Those things are incredibly healing and preserving and restoring or restorative. We need it.
Amy Stapleton:
That's the only way to continue to do the work.
Stewart:
My family just recently made a little trip out West. We went to Death Valley at 3:00 a.m. and the stars were so … There were so many, we couldn't figure out what constellation was where. So go to Death Valley if you can.
Amy Stapleton:
It's on my list.
Stewart:
It will help. And it has helped, those times away. And of course, just praying for those individuals that I can't visit.
Amy Stapleton:
Stewart, it has been an incredible privilege to sit across from you, to see you work, to feel so much gratitude for the presence that you bring to this work. Thank you. Thank you for showing up for people time and time again, for their families, for bearing witness in all the ways.
Stewart:
It's my pleasure.
Speaker 1:
Grief From the Other Side podcast is made possible thanks to the generous support from the John & Cathy Belcher Institute. For more information on grief and loss services, visit chesapeakelifecenter.org or call 888-501-7077.