When I first joined Hospice of the Chesapeake with a focus on community outreach and education, I was armed with the traditional brochures, flyers, pamphlets and a projector to share presentations at libraries, senior centers, community halls and the like. I was frequently joined by one of our clinical team experts. We would hand out information, shake hands, and talk with groups of people about the importance of hospice and supportive care, advance care planning and grief and loss.
Remember those days? Since the restrictions in response to the COVID-19 pandemic, my toolkit looks very different – Zoom interviews, creating and editing videos, and facilitating webinars. I'm not going to sugarcoat it — it was a lot to learn, and we had to learn quickly. But through it all, we have been able to expand our reach to the community in providing education on advanced care planning; COVID-19 illness, care and vaccines; and grief support.
The need for information and knowledge about serious illness, end-of-life care and grief and loss has never been more important to our community. We responded in turn. Conversations about making advance care plans, completing a Medical Order for Life Sustaining Treatment and coping with COVID-19 became regular everyday conversations like never before in our history and our experts were at the forefront of that education.
With the continued support of the John & Cathy Belcher Institute, we completed several pre-pandemic projects, including the premiere of our podcast, Grief from the Other Side, hosted by Amy Stapleton, Chesapeake Life Center bereavement manager. The podcast's first season aired in January with three episodes sharing three young women's inspirational journeys with grief and loss. The second season's focus is on our nonprofit's team members sharing their personal grief stories and how they use their experiences to approach their care roles.
The need for information and knowledge about serious illness, end-of-life care and grief and loss has never been more important to our community. We responded in turn.
While the education and outreach to our patient and families is always at the forefront of our mission, the education of our professional community and care partners is also an integral part of caring for life. We carried on, offering continuing education programs virtually as webinars for social workers, counselors and therapists. We have received amazing feedback, and we recognize that we will continue to offer much of our learning programs online. This led us to partnering with the CE21 learning platform, a new management system that will allow us to provide integrated event management. CE21 will heighten the online learning experience for participants while giving us access to a one-stop shop to remain compliant with continuing education unit accreditation board requirements.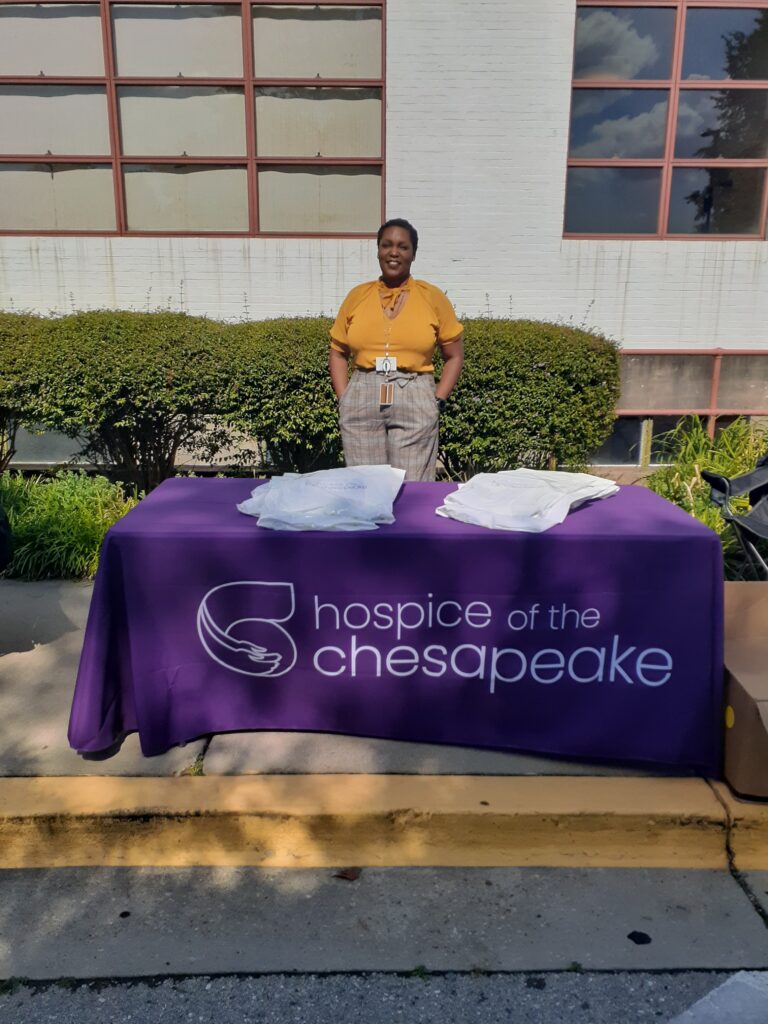 As more people in the community get the COVID-19 vaccine, we are slowly beginning a limited return to in-person outreach and educational events. In Prince George's County, we participated in Dementia Friendly America's Drive-Thru Caregiver Appreciation event in Greenbelt. The opportunity to meet so many businesses and organizations in the community at the Charles County Chamber of Commerce's Big Back-to-Business Bash at Waldorf's Regency Furniture in June was reinvigorating. It was an amazing opportunity to meet potential new community and health partners and spread awareness of hospice care benefits.
The global pandemic has given us the opportunity to broaden our scope and learn new tools that we used to pivot and shift to completely virtual outreach and education products. The commitment from donors helped us to fund this much needed shift in how we can educate the community. With your help, we are hopeful and optimistic that we will be able to continue use of tools as we transition back to an in-person organizational environment while allowing our virtual arms to remain outstretched.
To support the John & Cathy Belcher Institute or to inquire about education for your community, please contact foundation@hospicechesapeake.org, call 443-837-3385 or visit www.hospicechesapeake.org/giving/donate-now.